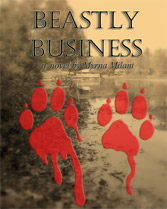 Buy the ebook at
As an avid reader and lover of mysteries, it seemed to me that this genre would lend itself very well to the exploration of some of the more controversial aspects of the human-animal bond, and Beastly Business represents the first of such a series. Although it has yet to find a mainstream publisher, I offer it here because the majority of rejection letters I received regarding it didn't fault the writing; they faulted the subject matter which editors viewed as too controversial and/or difficult to market because it doesn't support the dismissive or romanticized view of domestic animals. However, those who have read my fiction tell me they enjoy it because they're fascinated by all aspects of the human-animal bond, not just the warm fuzzy ones.
This first book of the series introduces veterinary ethologist, StClair Upton, and her quasi-partner Chandler McCarthy, a molecular biologist who writes questionable, but best-selling action fiction and maintains shadowy connections to the law enforcement community. The book centers around StClair's diminutive client, Monica Sonco who admits having a relationship with her pit bull that StClair knows most people would consider way beyond the fringe. However before StClair can help the young woman, her mangled body is discovered with the blood-covered dog standing over her. The plot thickens when StClair discovers that her former client also shared her vacation cottage with a stolen pygmy goat carrying an extremely valuable human gene splice.
Who killed Monica Sonco? What happened to the goat?
As StClair attempts to discover who killed her client, she finds herself relentlessly drawn into a high-tech animal conspiracy that takes her so deep into the dark recesses of the human-animal bond, she fears she may never find her way out.
Read chapters 1 and 2 of Beastly Business online.
Audiobook Chapters
Bonus Episode – The Making of Beastly Business (10.49MB MP3 file)
Get the eBook!
You can purchase Beastly Business as an e-book from Lulu.