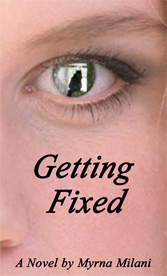 I decided to offer Getting Fixed free in serialized form because I wanted to gives friends, clients, colleagues, and other site visitors a holiday gift that would last throughout what's stacking up to be a long winter with most likely an equally long Mud Season to follow. Each week I'll add a chapter in MP3 format that you can download and listen to at your leisure on your computer, iPod, or other MP3 player.
Getting Fixed is a story about how the way we relate to animals affects our lives, sometimes in most unexpected ways, and sometimes whether we want it to or not.
When Khali Shackleford's career as a commercial photographer tanks and her husband runs off with a topless dancer, what better solution than to become a veterinarian and trade in invasive New England village life for work in a sunny California spay-and-neuter clinic? Add that not that long after she arrives on the West Coast she begins sleeping with her boss, the quintessential Dr Right who then falls madly in love with her, and any sane person would say that Khali's chaotic life has finally found its groove.
Alas, that's not to be. When Dr. Right proposes following her parents' bizarre deaths, Khali hits the road again, taking her most valuable possession, a collection of cats named after significant people in her life. As she makes her way back to New England, she saves a near-dead pregnant cat and adds her and then her 6 kittens to the group. Back in New Hampshire, Khali hires her best friend, mentally disabled Billy Paradise, to help her fix up her parents' home and swears him to secrecy regarding all those cats. Given her eccentric past, she can't afford to be labeled a collector.
As more cats keep showing up, Khali tells herself she'll resolve the feline population problem as well as other unresolved issues in her life when time allows. But when tragedy strikes, the future in which she hoped to fix things suddenly becomes the present in which she must. As Khali comes to grips with the animal and human influences in her life, she discovers that sometimes the greatest lessons are taught, not by those we have saved, but rather by those we have lost.
Chapter Downloads
Bonus Episode – The Making of Getting Fixed (6.12MB MP3 file)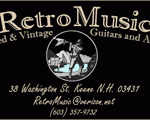 The song Irritations into Pearls was composed and performed by Jeff Firestone. The complete song is available for download here. (3.4MB MP3)
For more information, please contact Jeff at RetroMusic.